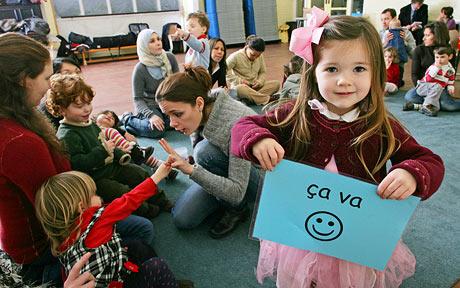 French for Children
01843 585 112 07814 858 712 pernotvirginie@gmail.com
You want your child to learn French. Learning French is fun and will help your child with his general studies: he/she will be more opened to cultural differences and others.
Our French for children course will focus on speaking and listening skills for your child to get an enjoyable introduction to the language and culture of France.
We offer individual tuition or small group tuition for your child to discover French language in a fun way (songs, games, French stories, varied activities,…)
We have tutored many children from the age of 4.
We can offer Family French classes: you and your child will attend the lessons together and you will study French at your child level. This is a good way to learn something together and create a lot parent-child bonding
We offer daytime, evening and weekend tuition.
Small group tuition can be an option.
Lessons can take place at your home or at my home.
We hold an enhanced Criminal Record Bureau Check
"Virginie ran a 10 week family French course in two schools last year in Dover. Virginie was wonderful with both the parents and children. She made the classes fun and was able to deliver them at a level suitable for all as the children's ages within the groups ranged from five to eleven. I would have no hesitation in working with Virginie again or recommending her to teach a family class." Hayley Ince - Extended Schools Project Officer Dover Deal and Sandwich - Kent County Council
"Virginie has worked with my postgraduate Modern Language students for several years now and consistently receives the highest evaluations from them. Virginie is skilled at making all feel included in the group; she pitches and differentiates work at appropriate levels, her interpersonal skills enable her to work well with everybody, and students consistently report that they enjoy, and are motivated by, her lessons." Marie Ryan - Education Department- Canterbury Christ Church University